Back /
View More Articles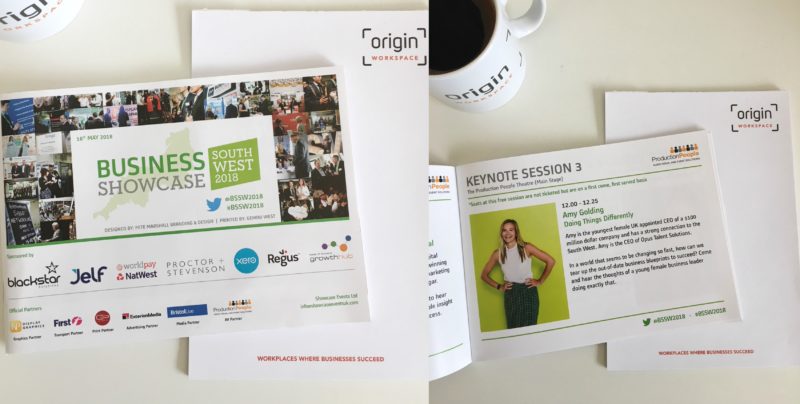 Local business events review: Business Showcase South West
Social Squad
Origin Workspace
11th Jul 2018
We really are spoilt for choice here in Bristol for local business events and the recent Business Showcase South West was no exception.
The one day business exhibition at Ashton Gate Stadium, billed as the largest free networking event in the South West, was packed to the brim with high profile, keynote speakers, informative workshops and networking opportunities galore.
It was a chance to celebrate the wonderful businesses we have in Bristol and the wider South West region and highlighted the importance of supporting the local services that we are so fortunate to have right here on our doorstep.
Superbly organised by TV presenter and Sunday Mirror columnist Jamie Breese and supported by media partner Bristol Live, we were delighted to see Mark Wright again, the influential entrepreneur and self-taught digital marketing guru who won the BBC's 'The Apprentice'.
Mark's career has gone from strength to strength with the launch of Climb Online in partnership with Lord Alan Sugar. The firm is now one of the UK's largest digital marketing agencies with a turnover in excess of £4m in just two years of trading.
We last saw Mark in Bristol when we went along to Social Media Weekto hear him talk about how to achieve maximum reach online. And at Business Showcase South West, he gave a fascinating talk about his career path to date and offered valuable insight into the role digital marketing has to play if you want your business to succeed in this day and age.
Rob Law MBE, CEO and Founder of Trunki, was also on hand as a keynote speaker. Rob spoke candidly about the blood, sweat, tears and joy of growing your own business from scratch. His story is nothing short of inspiring – from an original idea he had some 20 years' ago for a ride-on suitcase for globe-trotting tots to his famous rejection on Dragons' Den (reportedly one of the dragons' biggest regrets!) to selling 3.5 million suitcases and becoming a famous brand the world over. His passion, entrepreneurial flair and sheer determination in the face of adversity are proof that the sky's the limit if you have a brilliant idea, dream big and work hard.
We also had the opportunity to hear from the powerhouse that is Amy Goulding from Opus Talent Solutions– the UK's youngest female CEO – heading a $100 million dollar business. We have to say, her CV is rather impressive – just five years after graduating Cambridge University in 2008 and after a short stint at Deloitte, she was head hunted by ex-Dragon's Den investor James Caan to be his personal business advisor. Amy's keynote speech was a real highlight for us – revealing her inspirations and how she got her first big business break. It was fascinating to learn her views on the glass ceiling, what it takes to be a great leader and her inside tips for success.
If that wasn't enough, throughout the entire day, there was the opportunity to drop into seminars on everything from creating a prospecting plan, anxiety busting in the workplace to avoiding cyber criminals.
It was also great to see our old friend, LinkedIn expert Greg Cooper of Front of Mind Coaching who took us through the four essential stages of how to win new customers using the popular business social network.
And it's always great to catch up with telecommunications provider Blackstar who happens to be our supplier of choice for our communications solutions at Origin Workspace.
If you didn't get the chance to attend May's Business Showcase South West, fear not. Another eventis planned this year for the 10thOctober and it promises to be even bigger and better. We'll definitely be there and we're looking forward to future events in 2019 when we can really get stuck in once we've launched our brand new collaborative workspace in the heart of Bristol city centre.
And don't forget… If you're looking for more business events to attend this year, you can check out our very own events programme for the full list.