Back /
View More Articles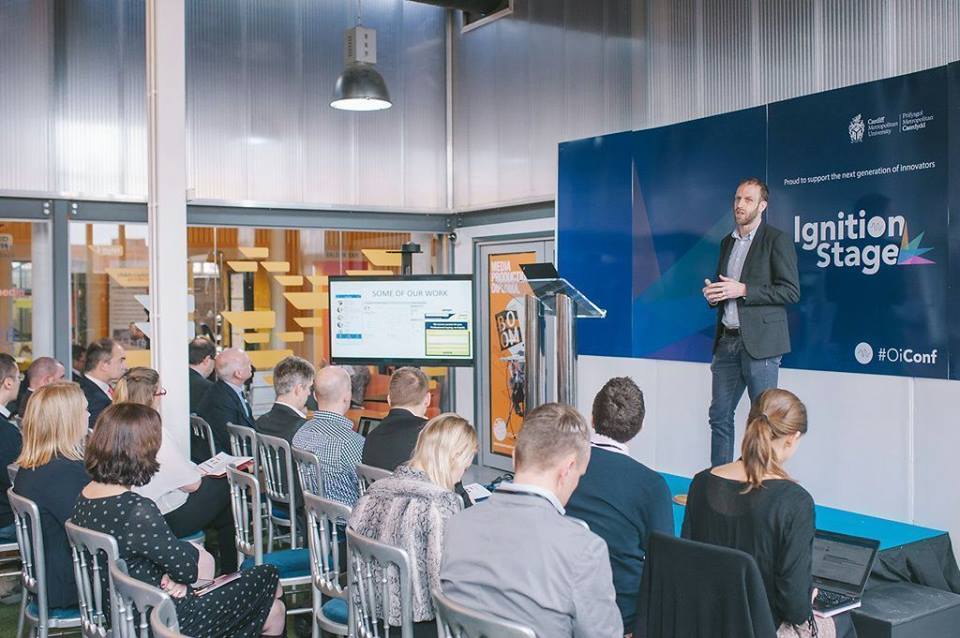 Business networking events – Why the Online Influencers Conference is a must-attend event
Social Squad
Origin Workspace
9th May 2018
If you haven't already heard of the Online Influencers Conference (or to give it its online moniker, #OiConf) we suggest you get it into your events calendar for next year, as it͛s one of the most sought-after business networking events here in the South West.
#OiConf is Europe's fastest growing mobile, digital, social media innovation and AI event. It happened right here in Bristol at the iconic Engine and Passenger Shed last month and the Origin Workspace team were lucky enough to be there to listen, learn, and share knowledge and network.
Welcoming nearly 2000 delegates from over 13 countries worldwide, the conference aims to harness the strength and depth of the creative, digital and tech cluster we have in the UK (and specifically, within the South West).
Bringing together senior business leaders from Snapchat, the BBC and Oracle, to name just a few of the distinguished speakers, #OiConf addresses the challenge of getting to grips with the effects of digital transformation.
In other words, it's about understanding the complementary technologies and strategies that are critical to consumer engagement and business growth across multiple online, social and mobile channels.
We were impressed with the sheer scale of the event. Incorporating eight keynote speeches, 16 master classes, 80 exhibitors and one-to-one 'matchmaking meetings' for tech providers, agencies, investors, research organisations, support providers and consultants to establish international collaborations.
The event also launched its inaugural AI conference – an intimate series of seminars and panel discussions connecting technologists and innovators with marketing leaders to spark insights and dialogue into how AI and machine learning is revolutionising the digital marketing landscape.
It would be well nigh impossible to give you the full details of all the informative seminars and discussions the Origin Workspace team were involved in. But to give you a flavour of the day-long whirlwind of everything digital, here are a select few of our seminar highlights:
Getting a Return on Social Media Activity – hosted by Populate Social
We all know the importance of having social channels as part of the marketing mix, but many businesses fall into the trap of forgetting about getting a return on their investment (ROI).
Handy tip from @DanielSimmons93 from @populatesocial — don't forget that you can upload preprepared #video #content to #FacebookLive and run it just like a #live video stream ! ?? #OiConf #socialmediamarketing pic.twitter.com/9LXOt8VKPs

— John Dutch (@john_dutch) March 29, 2018
Founder of Populate Social Dan Simmons gives tips to get ROI from social media:
Segment your audiences – by having different audience groups, you'll be able to see quickly and easily what interests your consumers.
Don't be afraid to ask your social community what content they want to see from you.
Use all aspects of social media, e.g. if you are running an event, make sure your social channels are plugged in on Eventbrite. If you sell products, ask people to leave reviews on your social media channels.
If you don't have tangible key performance indicators (KPIs) you won͛t know what's working. Also look beyond 'vanity KPIs' such as number of likes and followers. Audience engagement and content engagement are proven to drive results.
Use all the tools available on social – from setting Facebook pixels to testing Facebook Live (It doesn't have to be live), find out the content your audience responds to best.
If you are looking for more tips on social media for your business, read our review of the Social Media Week Bristol conference we attended in February.
The Growing Impact of Artificial Intelligence on Digital Media – hosted by Branded3
Two words – Artificial Intelligence. Everyone's talking about it but just how is it going to impact small businesses' marketing efforts?
Director of Branded3 Jon Greenhalgh emphasised the following three points that small and scale-up businesses need to think about when considering AI:
AI tech is still limited – we are still at the early stages of harnessing the full extent of AI's capabilities and how it can be used to tailor consumer experiences
AI can still be biased – look at the Cambridge Analytica issue. The business used artificial intelligence to sway the US presidential elections using consumer data pulled from Facebook as part of their marketing efforts.
It's vital to fully understand how AI can benefit an area of your marketing strategy. Make sure that touch points are in place to monitor the use of data and how it's distributed across your marketing channels.
Our Paid Media Director @jongreenhalgh is on stage now at #OiConf speaking on artificial intelligence! pic.twitter.com/5Z2CuxAJoh

— Branded3 (@Branded_3) March 29, 2018
Building a Brand on YouTube: The Secrets to Organic Growth – hosted by Digital Voices
Brilliant tips from @jenqj founder of @digitalvoicesuk

'Checklist for building a brand on YouTube: find a niche, be consistent, collaborate, co-create content, think about the eco-system as a whole.'#oiconf pic.twitter.com/3lZXgmPowK

— Origin Workspace (@OriginWorkspace) March 29, 2018
Jennifer Quigley-Jones from Digital Voices talked to us about the secrets of growing a brand organically. Here are the four main areas she recommends you focus on:
1. Find a niche
Success on YouTube is all about niche categories, from beauty product reviews to food blender recommendations. Find a niche your business YouTube channel can cover and make sure it's clearly described. Create content to add to your niche topic rather than repeating content that is already out there.
2. Be consistent
People who subscribe to YouTube channels expect to see the type of content they subscribed for (if they have liked one video, chances are they will want to see another video with the same format). Make sure your personality, style and brand is consistent to ensure people come back to view your content.
3. Collaborate
Find partnerships where you share the same demographics and create content to appeal to those audiences.
4. Authenticity
Video content can be an amazing way to showcase what your brand is all about, so take the time to ensure the content you put out on YouTube is unique to your brand.
The Origin Workspace team was buzzing with new thoughts and ideas after #OiConf and next year's event will be even bigger and better. Taking place over two days (14th-15th March 2019) at the Engine and Passenger Shed again, it will provide a unique opportunity to hear the digital success stories of senior marketing and business leaders from a wide range of industries.
What's more, an #OiConf AAA pass gives you access to all sessions, plus unlimited access to the OiConf Content Hub featuring whitepapers, blogs and downloadable content from a global roser of innovators and pioneers.
We can't wait for next year but if you're looking for more business networking events, why not come along to Origin Workspace's fantastic events that we're running over the next few months to help ambitious entrepreneurs and businesses grow? We usually have a monthly event round up of all the biggest events happening in Bristol, so be sure to follow us on Twitter, Instagram and Facebook.